The IKEA Home Tour Squad headed to Philadelphia to help the aspiring 2D animator, Ginelle, makeover her studio apartment. This apartment serves as her office, bedroom and living room, so the team had to create an atmosphere that was both stylish and relaxing. The Squad began by selecting a NYBODA coffee table that was reversible, allowing for changes to the overall look of the space. To bring decorative light patterns to the area, the Squad added a NYMÖ lamp shade. To divide the apartment into separate "rooms", the Squad incorporated a KALLAX shelving unit. With this, Ginelle now had a cozy, private bedroom and a living room that would be comfortable for hosting guests. To finish off the blank canvas, the team added the necessary necessities and accessories. For seating, they included the SÖDERHAMN sofa and a VINDUM rug. Also, they put a LINNMON/ALEX table with plenty of storage for art supplies and proper lighting. This allowed Ginelle to have a place to focus her creative energy. All in all, the Squad was able to successfully help Ginelle transform her studio apartment into a comfortable and inspiring space. They achieved this by using pieces of furniture and accessories that allowed for both functionality and style. With this new space, Ginelle will be able to work on her digital designs, host friends and family, and relax in a place that's all her own.
Do you want to change up your space and make it more you, but then you realize you can't do it because you're renting? We know that can get very frustrating, but don't lose hope! In this episode of the Home Tour Series, you can see that it's definitely possible for you to transform your rental apartment without all the heavy permanent construction stuff. Of course, this is all achievable with the help of some stylish and multipurpose Ikea furniture and accessories!
In the episode, the squad helps Ginelle to transform her rental apartment and ensure her space has both a creative and relaxing ambiance. Keep in mind her apartment is both her bedroom, living room, and office so the squad really worked well to use multifunctional furniture and accessories that would fit all those needs.
To know more about the Ikea products and furniture that they used in this episode, scroll down below!
Furniture Used:
Ikea NYBODA coffee table
This Ikea coffee table is a great choice if you're looking for something sleek and flexible. The Nyboda coffee table comes in a reversible tabletop, giving you an option of a light gray concrete look or a classic white finish. A great choice for a small space!
Ikea Kallax Shelf
We can't deny that a lot of people absolutely love the Ikea Kallax Shelf! This Ikea shelving unit embodies the word multifunctional. It can be used in so many ways and can be customized according to your needs – whether you want something with drawers or not, or if you need a functional room divider this Ikea shelf is the way to go! Get this shelf unit here.
SÖDERHAMN Ikea Sofa
A great compact yet comfortable sofa for any space! The Ikea Söderhamn sofa features adjustable backs, suspension fabric, and deep seats, making this Ikea sofa extremely comfortable.
LINNMON Ikea Tabletop
One of the multifunctional and customizable Ikea tabletops that you can utilize and use in almost every space. This Ikea Linnmon comes in pre-drilled holes for the legs to make it easier for you to customize your table. In this episode, they used the Alex drawer unit as the legs to the other end of the table, creating a whole new style of furniture just for the space.
Ikea Alex Drawer
The Alex Ikea drawer can stand on its own or be placed in combination with an Ikea tabletop of your choice to create a functional desk. For us, this is one of the best Ikea office furniture that's being offered with its functionality and ability to be customized, this Ikea drawer is indeed a bang for your buck!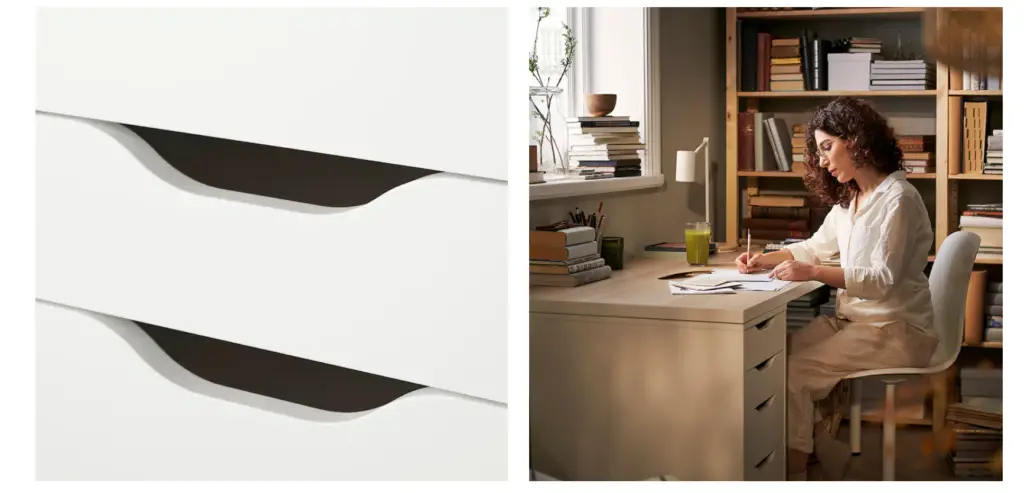 Accessories:
NYMÖ Ikea Lamp Shade
To add some texture and drama to your lighting, we would definitely recommend this Ikea lampshade! The NYMÖ lampshade's unique perforations allow light to shine through, which provides a decorative pattern of light throughout the room. This lampshade also comes in 2 colors!
VINDUM Ikea Rug
This thick and inviting rug gives you another comfortable spot in your space. The Ikea Vindum has ample thickness that can dampen sound and provides a soft area for you to walk on. One of our favorite parts of this rug is its mixture of contrasting colors that instantly add some design to the space.
Here are further tips on how you can maximize your first apartment with IKEA
Furnishing Your First Studio Apartment with IKEA Furniture
When you're furnishing your first studio apartment, IKEA furniture is an affordable and stylish option. IKEA offers a wide range of products, from basic furniture pieces and storage solutions to decorative accessories. Here are some tips to help you get started furnishing your studio apartment with IKEA furniture and products:
Choose Multi-Functional Furniture
A studio apartment is often smaller than other types of apartments, so you'll want to make the most of the space you have. Look for pieces of furniture that are multi-functional, such as a couch that doubles as a bed or a coffee table that also serves as extra seating. IKEA offers a variety of furniture pieces that are designed to maximize space without sacrificing style.
Make the Most of Storage Solutions
When you're furnishing a studio apartment, storage solutions are essential. IKEA has a wide range of storage solutions, from shelves and bins to dressers and wardrobes. Look for pieces that can be used for both storage and decoration, such as wall-mounted shelves that can also be used to display photos and other decorative items.
Add Accent Pieces
IKEA has a wide selection of accent pieces, from rugs and curtains to lamps and artwork. Look for pieces that complement the other furniture in your apartment and create a cohesive look. Accent pieces can also be used to add color and texture to your space.
Create a Cozy Atmosphere
When you're furnishing a studio apartment, it's important to create a cozy and inviting atmosphere. IKEA has a variety of accessories that can help you do just that. Look for accent pillows, throws, and blankets that can be layered on furniture pieces to make them more inviting. You can also add plants to your space to add a touch of nature and bring the outdoors inside.
Consider an IKEA Kitchen
If your studio apartment has a kitchen, consider investing in an IKEA kitchen. IKEA offers a wide range of kitchen cabinets, countertops, and appliances, so you can create a stylish and functional kitchen without breaking the bank.
Furnishing your first studio apartment with IKEA furniture and products can be a great way to create a stylish, inviting, and functional space without breaking the bank. Look for pieces that are multi-functional and maximize storage, and don't forget to add accent pieces that can help create a cozy atmosphere. And if you have a kitchen, consider investing in an IKEA kitchen to create a stylish and functional space.