Having a small space can be challenging, especially when it comes to storage, which is why we decided to collate a list of some of our favorite intelligent Ikea storage solutions that would perfectly work in small spaces. If you're interested to know more about these smart solutions, just scroll down below.
Our Favorite Ikea Under sink Storage
The space under your sink doesn't really sound like a place where you can store things, right? However, under sink storage is a smart way to incorporate storage in your kitchen or bathroom, especially cleaning supplies. Here are our two favorite Ikea under sink storage that you might want to try on your space.
If you're working with a stand-alone sink without any cabinet storage below, you can try the Ikea RÖNNSKÄR sink shelf. It comes in this sleek black design and offers you two shelves where you can insert some boxes or baskets to organize your supplies.
Don't worry for those with sinks with built-in cabinets; we have some Ikea storage solutions for you too!
We absolutely love the VARIERA shelf inserts in white that you can easily stack to create functional smart storage. You can use the Variera boxes to organize your supplies as they come in different sizes that suit your space.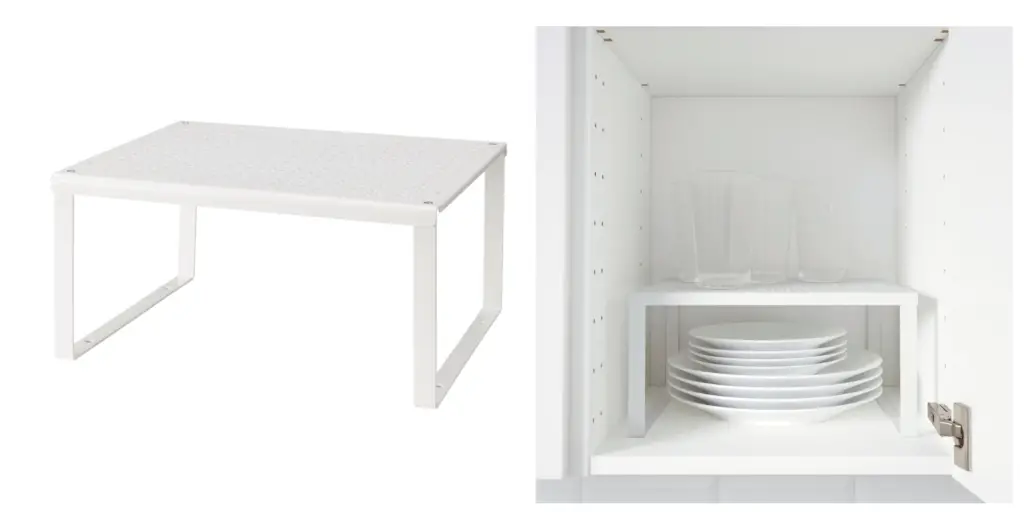 One of our favorite under the sink organization Inspo is from Raveena at Home; she really utilizes great Ikea storage products for her under sink kitchen storage.
Ikea Beds With Storage
Here's the thing, under-bed storage is really something mind-blowing for people with small spaces. Beds with hidden storage are a proper form of multifunctional furniture that you can definitely utilize daily. kea has a wide range of beds and beds with storage, but here are a few that we really just love.
The Ikea Malm bed is just so sleek! The bed features a high headboard with tailored edges that give that posh geometric look. This bed already looks so good, and of course, what we love about it is its under-bed storage. You get four storage boxes where you can store your linens, extra pillows, or seasonal beddings.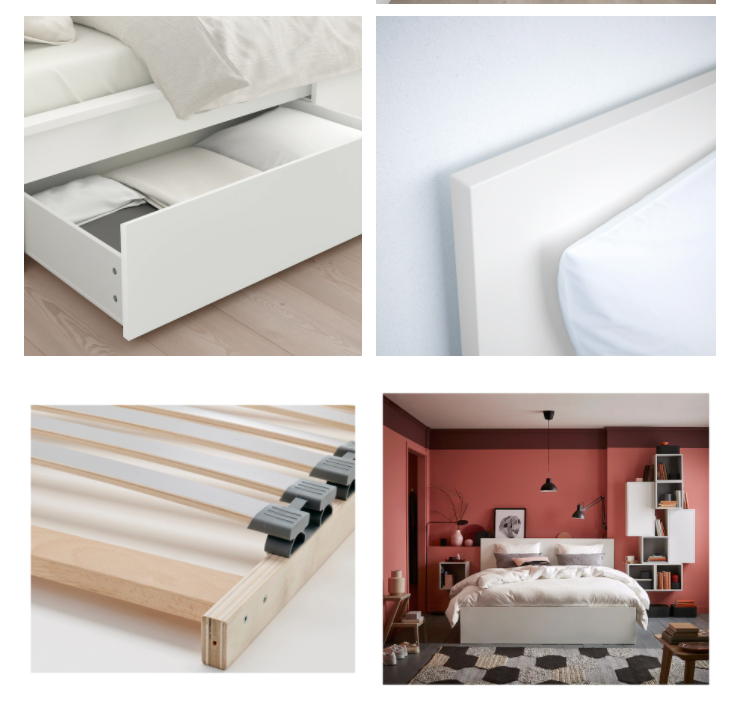 This next bed that we love is the Ikea BRIMNES! This Ikea bed has under-bed storage and extra storage on its headboard! How fun is that? You can store your books and side table necessities on that extra headboard storage and even place a lovely reading lamp on top of the extra storage for some extra light.
This last Ikea bed with storage that we love is perfect not just for small spaces but for shared small spaces too that need an extra bed to sleep on, plus functional storage. Yes, this next bed has extra storage and an extra bed… which is the Ikea SLÄKT! This bed frame features a pullout bed with storage! How cool is that? This is definitely one of our ultimate favorite Ikea beds with storage as it provides a great way to save space and utilize your furniture to a great extent.
Ikea Under Table Storage
When it comes to table space and small spaces, it can get a bit complicated. This is why we absolutely love these Ikea tables that come with some innovative storage solutions that can give you more places to store your stuff and literal space.
We love this table simply because the NORDEN table is perfect for spaces where you need to work with limited kitchen-dining space. It gives you options to have a more expansive tabletop, and it also comes with some drawer space where you can insert your daily used items like cutlery, placemats, glasses, and many more. You get a table and cabinet in one, how cool is that!?
Storage and Small Spaces
We know that storage can be challenging when faced with a tight space, so we hope that this shortlist can help you choose the right pieces that you need to incorporate into your home to make sure you utilize every inch of space. If you're looking for more inspiration, check out this episode on a Small Space Makeover.
Ikea is a Swedish company that specializes in furniture, kitchen appliances, and home accessories. A popular choice for many homeowners, Ikea offers space-saving and smart storage solutions for small space living. Here are four Ikea products that can help you maximize space and keep your home clutter-free.
1. Kallax Shelving System The Kallax shelving system is an affordable and versatile storage solution from Ikea. The shelving units come in various sizes and colors, so you can find one that fits your space perfectly. You can use the shelves for books, magazines, toys, plants, and more. The shelves are also stackable, so you can make the most of your vertical space.
2. Lack Wall Shelves The Lack wall shelves are a great way to make use of unused wall space. These shelves are available in a variety of sizes and colors, and they can be used to store books, magazines, plants, and more. They are easy to install and they come with all the necessary hardware.
3. Fintorp Kitchen Storage System The Fintorp kitchen storage system is a great way to organize your kitchen. This system features wall-mounted rails and hanging baskets that can be used to store dishes, utensils, and other kitchen items. The baskets are also removable, so you can take them down and wash them when needed.
4. Kuggis Storage Boxes The Kuggis storage boxes are a great way to store items without taking up too much space. These boxes come in various sizes and colors, and they can be used to store books, magazines, toys, and more. The boxes are also stackable, so you can maximize your vertical space.
Overall, Ikea offers a variety of smart storage solutions for small spaces. From the Kallax shelving system to the Fintorp kitchen storage system, there are plenty of products that can help you make the most of your space. With a little creativity and the right products, you can turn your small space into an organized and clutter-free home.