Your kitchen is the heart of your home; it is the place where you cook meals, entertain friends, and share stories with family. It is one of the busiest areas in the house and, as such, it is important to ensure that you have enough storage space and the right tools to make your kitchen experience enjoyable.
One of the best ways to maximize your kitchen space and make cooking and cleaning easier is by adding mobile storage units and surface space. IKEA's FLYTTA kitchen carts on wheels make it easy to move around and store your kitchen tools in one convenient place. FLYTTA carts can be combined with other IKEA products such as the LÄMPLIG chopping board, KUNGSFORS rail and hooks, and KUNGSFORS containers to provide additional chopping block space, storage for cutlery, utensils, and other kitchen items. The KUNGSFORS rail can also be used with the KUNGSFORS wall racks to hang oven mitts and with the KUNGSFORS tablet stand for easy recipe viewing.
The tablet stand can be used to display a new recipe or watch a video of a new recipe to follow along with. The FLYTTA kitchen carts on wheels are a great way to maximize your kitchen space and make it a more enjoyable place to cook. The carts are easy to move around, provide plenty of storage and chopping block space, and are compatible with a variety of IKEA products and accessories. With the right tools and storage solutions, your kitchen is sure to become the favorite room in your home.
You know what they say, the Kitchen is the heart of the home, the place where you create the delicious and memorable meals that you share with your family and loved ones. So that means, you have to keep your kitchen not just clean and organized, but maximizing and utilizing your space too!
Ikea has a wide range of kitchen items that can surely help you make use of your kitchen space in smart and efficient ways. Check out some of our favorite Ikea kitchen items that can help brush up your storage and organization in your kitchen at home!
LÄMPLIG Chopping Board
This Ikea chopping board is a real spill saver! The board collects the food juice in the milled groove to prevent making a mess and spilling all over your countertops. This Ikea chopping board is easy to clean, made from bamboo which is a durable, elegant wood that's gentle on knives.
FLYTTA Ikea Kitchen Cart
This stainless steel Ikea utility cart is really something that you can depend on! It's rust-resistant, easy to move around with its wheels, and provides extra storage and surface for your cooking needs. A real smart way to organize and utilize your kitchen!
Product Dimensions:
Load/tier: 50 kg
Length: 98 cm
Width: 57 cm
Height: 86 cm
KUNGSFORS Ikea Kitchen Rail
Organize your kitchen with this Ikea smart wall storage! Designed to provide the extra space for you to maximize and utilize in your kitchen! Made from stainless steel.
Product Dimensions:
Length: 22 "
Diameter: ½ "
KUNGSFORS wall racks
Just like the kitchen rail, this wall rack is a great space saver and maximizer.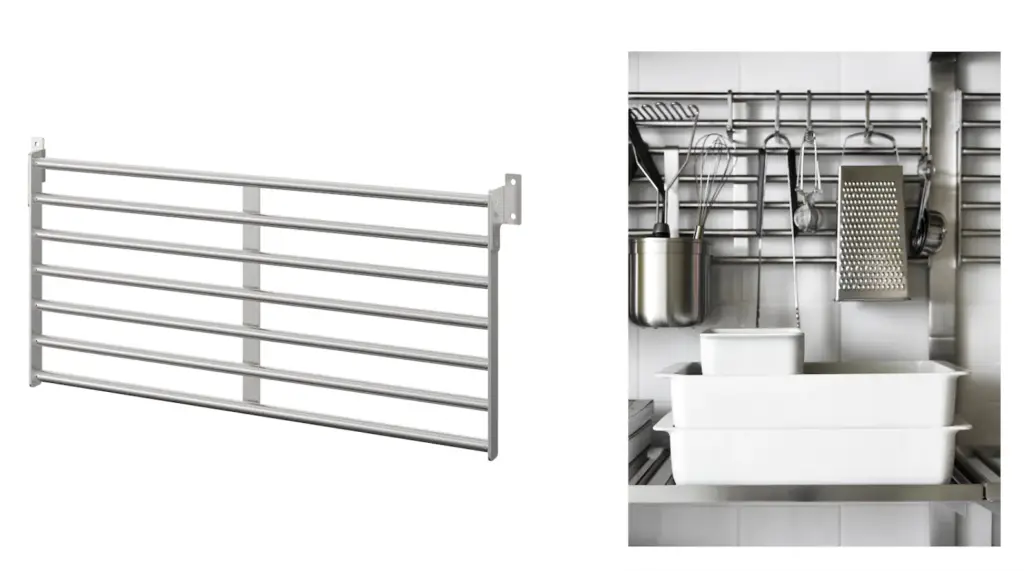 Product Dimensions:
Width: 22 "
Height: 10 ½ "
KUNGSFORS Containers
A great compliment on your Kungsfors Ikea Kitchen Rail where you can keep your kitchen utensils close at hand while freeing up counter space.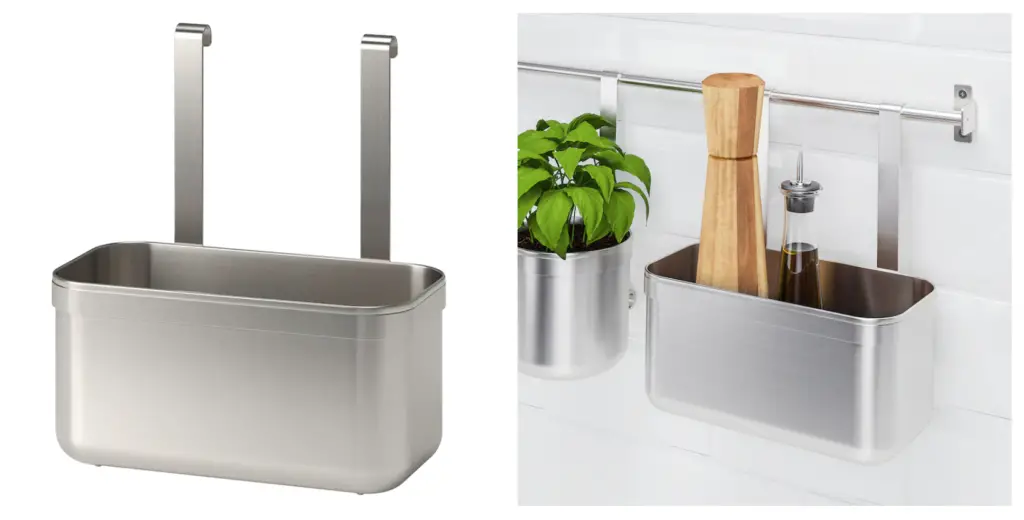 Product Size:
Width: 9 1/2 "
Depth: 4 3/4 "
Height: 10 3/8 "
KUNGSFORS Ikea Tablet Stand
This Ikea Tablet Stand is very practical and user-friendly. This tablet stand can help you view your recipes on your smartphone or tablet easily as you go through your cooking process.
Product Size:
Width: 26 cm
Depth: 13 cm
Height: 12 cm
KUNGSFORS Ikea Magnetic Knife Rack
This magnetic knife rack helps you to see all the knives that you have, and at the same time gives you more drawer space to use for your other kitchen essentials.
Product Size:
Width: 22 "
Smart storage and easy kitchen organization can be achieved with the help of Ikea products. Ikea is known for its stylish and affordable furniture, accessories, and appliances that make life easier and more enjoyable. The company offers an array of kitchen storage solutions, ranging from drawers and shelves to cabinets and islands, that can help ensure that your kitchen is both organized and aesthetically pleasing.
The first step to achieving smart kitchen storage and easy organization is to assess your needs. Consider what type of kitchen storage you require and how much space you have available. This will help you decide which Ikea products are best for your particular needs. Once you've determined this, you can begin shopping for storage solutions that meet your needs.
One of the most popular Ikea products for kitchen storage is their shelving. This type of storage solution is great for organizing pantry items and other kitchen items that don't need to be kept in a more secure location. Ikea's shelves are also perfect for displaying decorative items like glassware, dishes and cookbooks.
The next step to smart kitchen storage and easy organization is to consider the use of drawer units. These units provide great organization for items like utensils, kitchen gadgets, and small appliances. Ikea's drawer units come in a variety of styles, sizes, and colors, so you'll easily be able to find the perfect fit for your kitchen. Another great way to maximize kitchen storage and organization is to utilize the space under your kitchen sink. Ikea offers a range of baskets and organizers that are perfect for keeping cleaning supplies, sponges, and dishrags organized and out of sight.
Finally, for those who are looking for an extra boost of storage, consider adding an Ikea wall cabinet. Wall cabinets not only provide additional storage space, but they also help to make a kitchen look more organized and stylish. Wall cabinets come in a variety of sizes, styles, and finishes, so you'll be sure to find one that perfectly fits your kitchen's style.
By utilizing Ikea's storage solutions, you can easily create smart kitchen storage and easy organization. Whether you're looking for shelves, drawer units, wall cabinets, or baskets, Ikea has products that will help you make the most of your kitchen's space. With the right storage solutions, you can create an organized and aesthetically pleasing kitchen that will make meal preparation and clean up a breeze.