Enshane has a dream of becoming an author and spiritual counselor and is starting a new life in Vancouver, WA with her children. In Episode 311 of the IKEA Home Tour series, the Squad is here to help her transform a previously confusing and under-utilized space into a purposeful and functional retreat. Enshane is an avid traveler, having been around the world to places like Ohio, Alaska, and Japan. She has a number of souvenirs from her travels that the Squad uses to create a feminine, bright retreat that matches her personality. To tackle the overflowing laundry room and unorganized piles of paper, the Squad uses the ALGOT wall storage system, while the LILLASEN desk provides a workspace and place to write. The loft conversion is a complete transformation from a chaotic and cluttered catch-all into an organized and inspiring sanctuary that will support Enshane's spiritual and career development. The Squad has taken the time to understand her needs and desires, creating a space that will help her move forward with her professional and spiritual goals. Enshane is thrilled with the results. She can now focus on her passions in a space that is organized and calming. She can also enjoy a cozy place to sit and relax and reflect on all of her amazing adventures. She also has a functional workspace and storage solutions that are perfect for her lifestyle. The IKEA Home Tour Squad has done an incredible job in helping Enshane create a purposeful and functional retreat in her home. With their help, she can pursue her dreams, declutter her mind and life, and make the most of her new life in Vancouver, WA.
This particular episode of the Home Tour Series, makes you really want to transform your loft space. The Squad helps out Enshane to transform her chaotic, underutilized space into something relaxing, functional, and stylish! Enshane is a seasoned traveler and has been able to collect a lot of great pieces from around the world which the squad was able to utilize and add to her newly transformed loft space.
Check out the Ikea pieces that the squad used below! We're sure you'll love them!
Furniture Used
LILLASEN desk
This Ikea bamboo desk is durable, practical and stylish. A great piece to add to your space if you're looking for something made from renewable and sustainable material.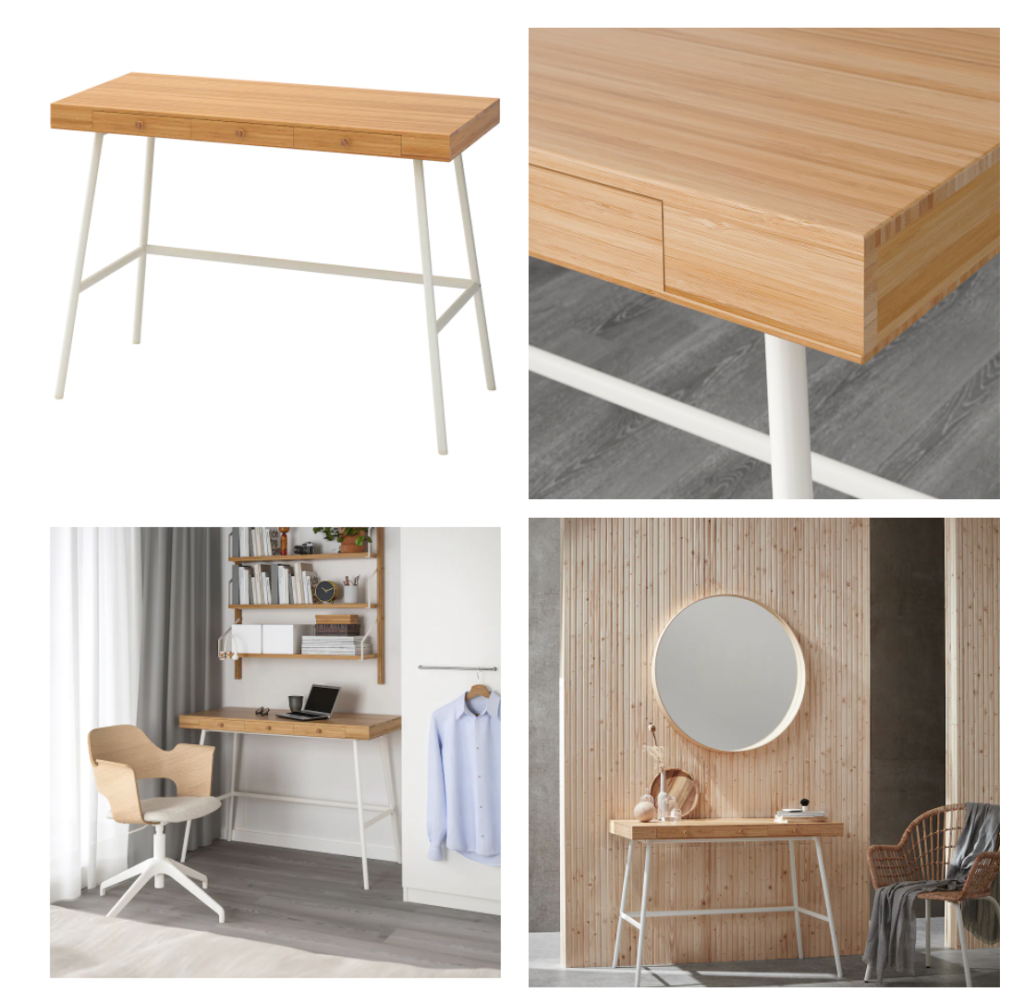 Product Details
Length: 102 cm
Width: 49 cm
Height: 74 cm
Width of drawer (inside): 23 cm
Depth of drawer (inside): 32 cm
Thickness: 6 cm
MASTHOLMEN Ikea Chair
This Ikea rattan armchair is both comfortable and chic. A great way to create an outdoor airy vibe in your enclosed space or at your verandas, decks, sunrooms and gardens! This chair is handmade, lightweight and also stackable so it's easy to keep when you don't need to use them.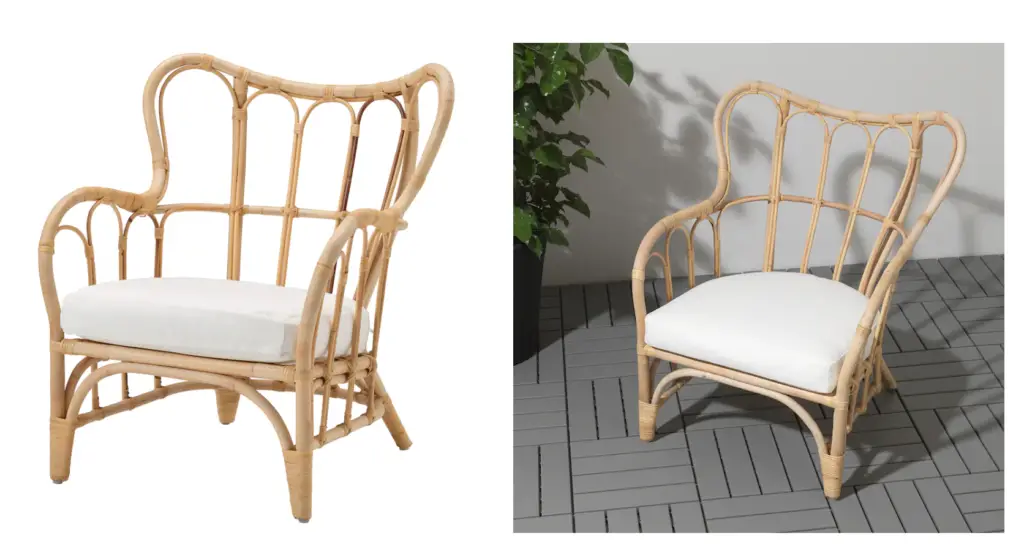 Product Details:
Width: 68 cm
Depth: 67 cm
Height: 80 cm
Seat width: 50 cm
Seat depth: 50 cm
Seat height: 37 cm
ALSEDA Stool
This unique Ikea stool is handwoven, lightweight, and really a great statement piece for any space!
Product Dimensions:
Seat diameter: 23 5/8 "
Height: 7 1/8 "
Seat height: 7 1/8 "
EKET Storage Combinations
The Ikea Eket cabinets are always a great way to add a pop of color to your space. It's a simple easy to assemble unit that's functional and stylish. You can explore different combinations that will suit your own style and needs.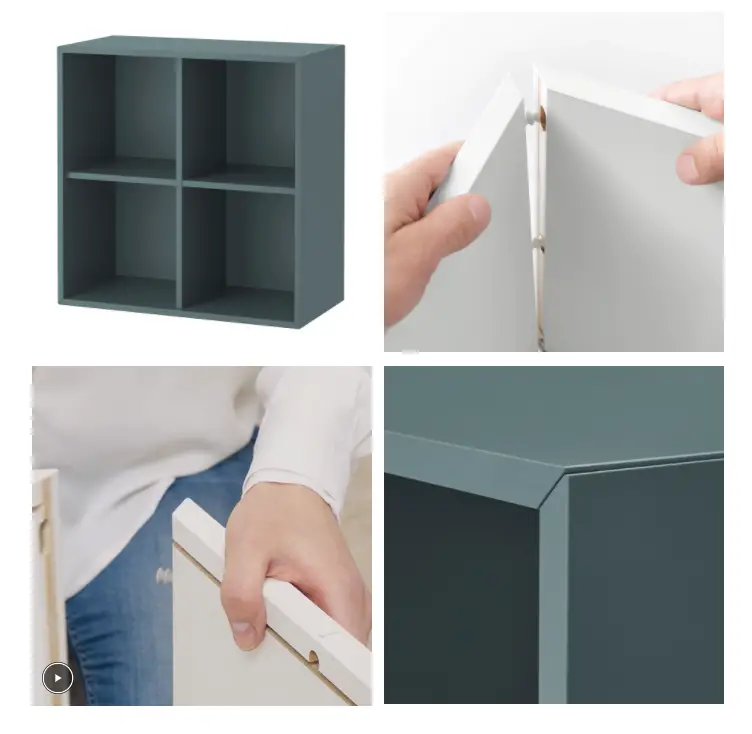 Product Dimensions
Width: 27 1/2 "
Depth: 13 3/4 "
Height: 27 1/2 "
Max load/shelf: 15 lb
More Idea for Transforming a Loft Space
Idea 1 – Ikea Ektorp Sofa
The Ikea Ektorp sofa is a great choice for transforming any loft space. It's an affordable, stylish, and comfortable piece of furniture that will add a modern touch to your loft. You can get the Ektorp in a variety of colors and fabrics, so you can match it to the rest of your décor. This sofa is perfect for lounging around with friends, or for taking a nap during a break from work. The Ektorp is also great for entertaining, as it can easily seat up to three people.
Idea 2 – Ikea Kallax Shelf
The Ikea Kallax shelf is an ideal piece of furniture for transforming a loft space. It's a versatile and attractive storage option that can be used to store books, DVDs, or whatever items you need to keep organized. The Kallax is available in a variety of colors, finishes, and sizes, so you can find the perfect one to fit in your loft. The shelves are also adjustable, so you can customize them to fit your needs.
Idea 3 – Ikea Alex Desk
The Ikea Alex desk is a great way to add a modern and practical workspace to your loft. It's a sleek and minimalist design that won't take up too much space in your loft. The Alex desk is available in a variety of colors and finishes, so you can find one that will match the rest of your décor. It's also a relatively inexpensive option, so you won't have to break the bank to add a desk to your loft.
Idea 4 – Ikea Stockholm Rug
The Ikea Stockholm rug is the perfect way to add a touch of luxury and style to your loft. This rug is available in a variety of sizes, colors, and patterns, so you can find the perfect one to fit your loft. The Stockholm rug is also very durable and will last for years. It's an affordable option that will add a cozy and comfortable feel to your loft.