Looking for style inspiration for your living room? This episode is perfect for you!
In this episode, the Home Tour Squad helps Christina and Krysta to style and utilize their awkward living room space into something functional and chic. They used some great Ikea pieces to compartmentalize the entryway, living room, and dining area for a clean and clear flow.
Check out the furniture that they used below!
Furniture Used
Ikea PAX Wardrobe
This Ikea pax wardrobe is a great simple solution to get more storage for your belongings without compromising space. Its shallow depth makes it a great choice for narrow spaces but still provides ample space for your belongings.
Product Size
Width: 59 "
Depth: 23 5/8 "
Height: 79 1/4 "
Ikea VALLENTUNA Sectional
This sofa brings out a lot of options! It can be used on its own or something you can add to other units to customize the sofa size you want or need for your space. It also includes storage underneath to easily tuck away items.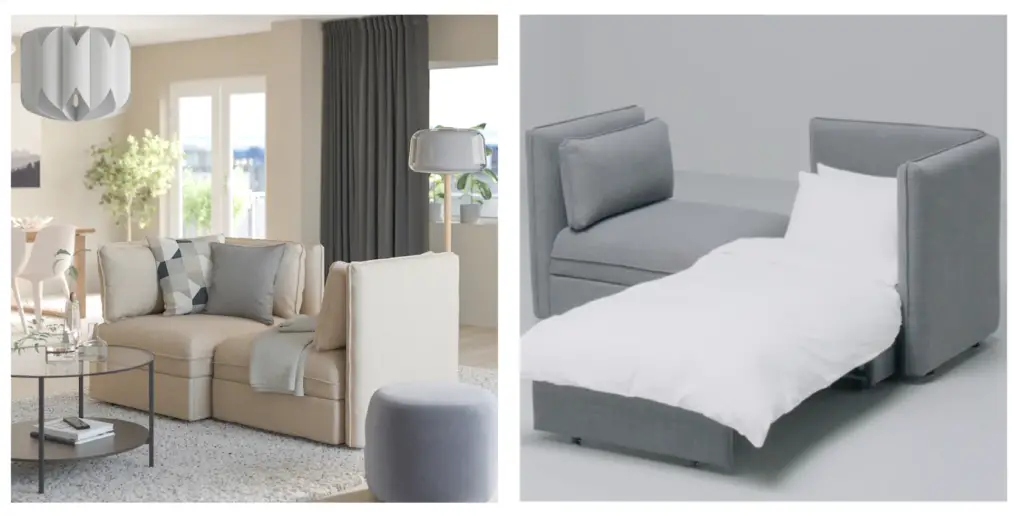 Product Size:
Width: 73 1/4 "
Depth: 44 1/2 "
Height: 33 1/8 "
Seat depth: 31 1/2 "
Max. seat depth: 39 3/8 "
Seat height: 17 3/4 "
Bed width: 31 1/2 "
Bed length: 78 3/4 "
EKERÖ Armchair
This sleek, modern-looking armchair gives you both comfort and style. With its sturdy back and movable cushion, this chair will surely give you that extra support and comfort.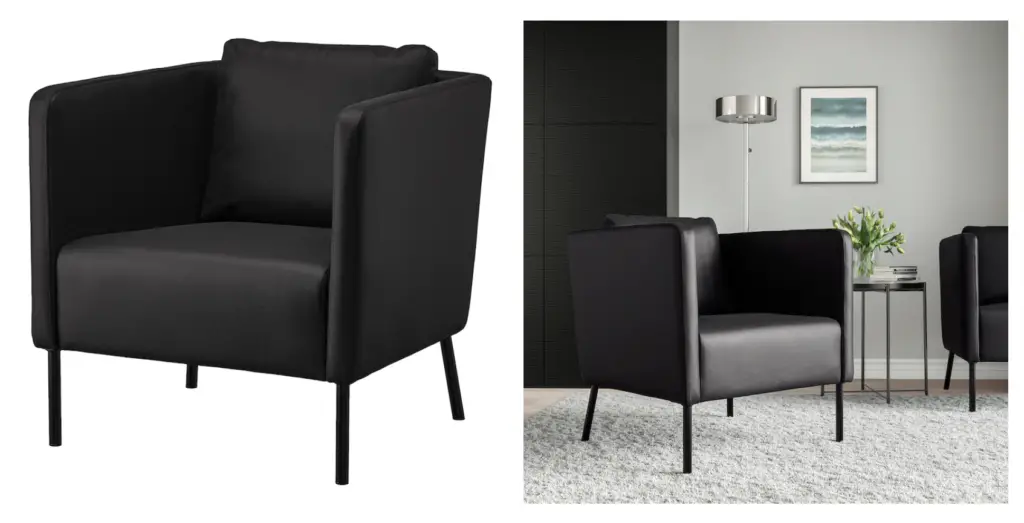 Product Dimensions:
Width: 27 1/2 "
Depth: 28 3/4 "
Height: 29 1/2 "
Seat width: 22 1/2 "
Seat depth: 18 1/8 "
Seat height: 16 7/8 "
BJURSTA extendable table
This Ikea extendable dining table is perfect for a small space! You can easily add or reduce seating depending on your need. The best part, the table looks sleek and clean making it presentable as the main table piece in your home.
Product Dimensions:
Max. length: 65 3/8 "
Height: 29 1/8 "
Diameter: 45 1/4 "
HENRIKSDAL Chair Cover
A great way to change the look of your chairs is to add a chair cover! Not only will it change its overall look, but it can also preserve your upholstery and keep your chairs clean at all times. This Ikea chair cover is easily washable.
FABRIKÖR Glass Cabinet
This Ikea glass cabinet is a fun way to display your items and collectibles. The Ikea Fabrikör is a vintage-inspired glass door cabinet that you can add to brighten up any space!
Product Dimensions:
Width: 31 7/8 "
Depth: 16 1/2 "
Height: 44 1/2 "
Max load/shelf: 22 lb