Most people associate mold growth with green, brown, or black patches of fungus that you might find on the walls or ceilings of a damp room.
However, in reality, mold can be much more inconspicuous.
Mold can take up residence in hidden areas of your home, including inside chimneys and underneath coats of paint.
In the early stages of mold growth, before the spores build up to a noticeable degree, the spores may remain invisible to the human eye.
Airborne spores, in particular, can be difficult to detect.
Unfortunately, just because you can't see the mold doesn't mean it isn't affecting your health.
If you've been experiencing strange symptoms such as itchy eyes and skin, or you've noticed a musty odor in your home that you can't place, you may have a problem with hidden mold.
If anyone in your household is elderly, very young, or suffering from pre-existing respiratory problems, this can be a potentially dangerous situation.
But don't panic! Thanks to developments in chemical testing technology, you can purchase a DIY mold test kit online today to check your home for mold.
We've reviewed our top 5 best mold test kits for today's article so that you can benefit from accurate results, fast turn-around times, and complete peace of mind.
OUR TOP PICK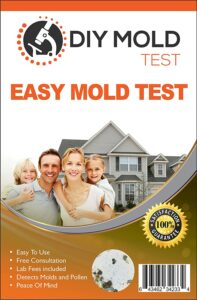 Mold Inspection Network DIY Home Test
EDITORS CHOICE
ImmunoLytics DIY Mold Test Kit
BEST VALUE
Healthful Home 5-Minute Mold Test
OUR TOP PICK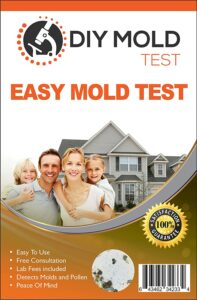 Our top pick out of all the mold testing kits available on the market is the Mold Inspection Network DIY Home Test.
This is a comprehensive testing kit that checks for all mold types. Using the 3 swabs included, you can test up to 3 surfaces in your home for the price of a single kit.
This is a much more affordable deal than you'd get from a professional mold inspector.
However, just because this test can be carried out on a DIY basis as opposed to hiring a professional doesn't mean that the process in itself isn't of professional quality.
Once you've carried out the tests with the help of the start guide and clear instruction booklet provided, all you need to do is send the samples off to the lab.
Once the samples arrive, the results are interpreted by Mold Inspection Network's team of qualified professionals.
Your interpreted results will then be broken down for you in detail during an expert consultation, which is included in the price of the kit.
This helps to ensure that you fully understand the findings of your samples and what to do moving forward.
This test is almost entirely perfect, except that it doesn't include an air sampling method, so it can't test for any airborne spores.
Pros
Tests for all mold types – Comprehensive and detailed
3 swabs included – Tests multiple surfaces
Lab-analyzed – Professional interpretation
Includes expert consultation – Results explained in detail
Start guide and booklet included – Clear instructions
Cons
Does not test for airborne spores – Separate airborne spore test may be required
EDITORS CHOICE
ImmunoLytics' DIY Mold Test Kit is another high-quality, easy-to-use mold testing kit for detecting various types of mold.
Inside the box that you'll receive after purchasing the ImmunoLytics DIY Mold Test Kit, you will find 5 test plates, an instruction leaflet, and all the equipment you need to send the samples back to the lab.
Each of the test plates included in the package can test up to 200 sqft of surface area, which means that the purchase will allow you to test up to 1000 sqft for the presence of mold.
Another great thing about this kit is that you don't necessarily have to send it back to the lab to get your results.
We'd recommend doing so because this will ensure that your results are interpreted to a professional standard.
However, the lab analysis is not included in the price of the testing kit, and the cost of lab analysis is almost as much per plate as the cost of the entire package.
Choosing lab analysis will entitle you to a free consultation, though.
The alternative to lab analysis to analyze the results yourself at home, using the online video tutorials to help you.
You will need to wait 4 to 5 days for the mold to develop visibly so that you can identify the mold type and deal with it accordingly.
Pros
5 test plates included – Test up to 1000 sqft
Choice of self or lab analysis – Versatile and convenient
Includes testing instructions – Detailed and easy to follow
Online interpretation tutorials – Ensures thorough understanding
Free consultation available with lab analysis – Benefit from professional guidance
Cons
Lab analysis not included in price – Not a budget-friendly option
BEST VALUE
Suspecting the presence of mold in your home can be an anxiety-inducing experience, so getting results quickly is often a priority.
If you want your results as soon as possible, we recommend the Healthful Home 5-Minute Mold Test.
This kit works by using an EPA-recommended dust sampling method to test for 32 different types of mold.
The results of your test will be ready to interpret in minutes with the help of My Healthful Home's instructional video, accessible through the company's website.
Once you've got your results, you'll be entitled to a free professional consultation with an expert to answer any questions you have about your results and determine how best to proceed.
However, while the kit includes 2 test strips (for Aspergillus/Penicillium and Stachybotrys), only one swab applicator is included for transfer to the strips.
This makes it difficult to test different surfaces for specific mold because the same applicator must be used for all surfaces.
Pros
Tests for 32 different mold types – Thorough analysis
EPA-endorsed dust samples – Sensitive and effective
See results in minutes – Highly efficient
Expert consultation included – Professional advice
Cons
Only one applicator included – Not ideal for surface-specific testing
RUNNER UP
If you want a detailed and highly scientific investigation into the presence of mold in your home, you'll want to look for the best possible lab test. In our opinion, that's the Seeml Labs DIY Mold 3 Test Kit.
Although many of the tests included in our selection do have a lab testing option, the Seeml Labs testing kit offers some of the most detailed results and one of the most efficient services available.
Seeml Labs' DIY Mold Test Kit tests for all species of mold using tape and swab samples.
The basic kit includes 2 strips of tape and a swab, so you can test 3 surfaces in total.
However, you do also have the option of adding more samples to your kit if you need to, for an additional fee.
Depending on how many extra samples you need, this should work out significantly cheaper than buying a whole extra kit, and you won't have to deal with separate sets of results.
Moreover, Seeml Labs turns results around on the same day as the samples arrive back at the lab, so you won't have to endure prolonged waiting times for professional interpretation, unlike some other lab testing services.
After you've received your results, you can also benefit from an expert consultation, which is included in the price of the kit.
This is highly advantageous because it ensures that you'll be fully informed on what your results mean for your home environment and how to resolve the issue if one is found.
Unfortunately, shipping is not included in the price of the package, so you will need to pay separately to send the samples off.
Pros
Tests for all mold types – Thorough investigation
2 tape strips and 1 swab – 3 surface tests in total
Same-day turnaround – Get your results quickly
Expert consultation included – Personalized advice
Options for extra samples – Tailor your testing experience to your home
Cons
Cost of shipping is not included – Separate payment required for shipping
RUNNER UP
Some mold testing kits can be quite restrictive in terms of the methods they are able to use and where they can detect mold.
If you want to test the air in your home for mold spores as well as the physical surfaces, your best bet is the Mold Armor Do It Yourself Mold Test Kit.
One thing that most of the mold testing kits on the market fail to address is the fact that mold can be hazardous to health even in ventilated areas, such as outside the home.
Mold Armor's test kit is suited for both indoor and outdoor use, meaning that you can test your exterior surfaces for mold.
In addition to the 3 swab samples for surfaces, this kit provides sampling methods for heating and air conditioning as well as indoor air quality.
This allows you to test the air inside your home for spores.
Petri dishes are included for each sampling method which you can use to cultivate your samples. If mold is present, results should be visible within 48 hours.
We should mention that there's also the option to mail your results to the lab for professional analysis, although there is an extra charge for this service, and it's not cheap.
However, if you want a detailed analysis with scientific identification of mold types, lab analysis is definitely the way to go.
Pros
Suitable for indoor and outdoor testing – Ensure whole-house safety
Includes air quality test – Check for airborne spores
3 surface samples – Test in multiple rooms
Results within 48 hours – Fast turnaround
Lab analysis option – Get a professional opinion
Cons
Steep extra charge for lab analysis – Not budget-friendly
Best Mold Test Kits Buying Guide
While we believe and trust in the effectiveness of all the mold test kits we've reviewed for you in today's article, that doesn't necessarily mean that each test will be suited to your individual needs. In order to choose the best mold test kit for your home environment, you will need to consider a few key factors.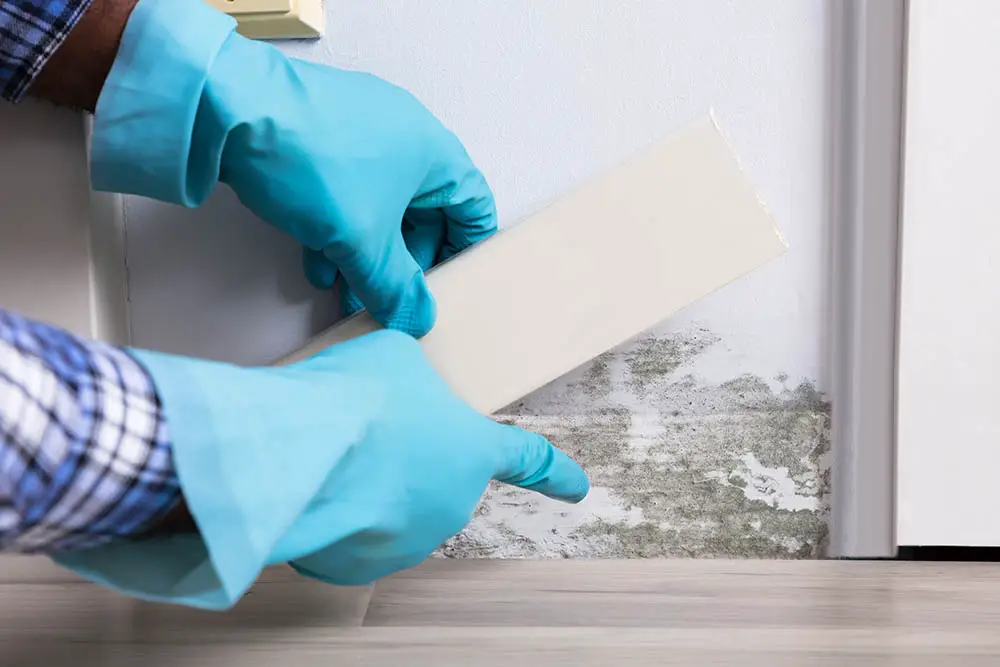 Sampling Method 
When choosing a mold testing kit, the first thing you should determine is which type of sampling method the test uses.
For surface testing, the main sampling methods are swabs and tape tests. Both of these methods are effective, but a larger surface area can usually be tested with a swab than with tape.
You also can't grow a culture from a tape sample, which means that this type of test can't be analyzed at home on a DIY basis.
Air sampling, on the other hand, uses a pump to draw in air and collect any spores that may be present.
Mold test kits that take air samples are less common than surface tests and also tend to be a little more expensive.
However, the upside to these tests is that they can check for the presence of spores that might otherwise remain entirely undetected.
With surface mold, there will usually be at least some kind of indication that there is a problem, such as bubbling paint or damp patches as the spores build up to higher levels.
Airborne spores, on the other hand, leave no physical signs. Therefore, testing the air inside your home is the best way to ensure that your living space is completely safe.
Mold Species
It's also a good idea to verify which species or types of mold a mold testing kit checks for.
Because there are so many species of mold out there, a test that only checks for a few types may yield a false negative result.
Given that there are over 100,000 types of mold in the world, you shouldn't expect a home testing kit to test for every single one. For a start, not all of these molds are harmful.
With that being said, a good home testing kit for mold should check for the majority of potentially hazardous mold types.
Ideally, this should involve testing for Aspergillus, Penicillium, and Stachybotrys mold types for a thorough investigation.
The Healthful Home 5-Minute Mold Test, for example, checks for 32 separate mold species across these categories. Our top pick, the Mold Inspection Network DIY Home Test checks for all known, harmful mold types.
Lab Tested?
Before settling on a mold testing kit, you should check whether or not the results can be sent to a lab for analysis or whether the entire process is designed to be carried out at home.
Some test kits offer you the choice between these analysis methods.
While there's nothing wrong with choosing to analyze your results at home if the test allows for it, there are many benefits to having your results professionally interpreted.
For one thing, you get the peace of mind of knowing that the results are being handled by experts who know exactly what they're doing.
Moreover, when you get your results analyzed at the lab, many testing companies offer free expert consultations to take you through the findings.
If you're concerned about long waiting times, we'd recommend the Seeml Labs DIY Mold 3 Test Kit, which turns results around on the same day they arrive at the lab.
Alternatively, interpret-at-home kits can produce results in as little as 5 minutes, ranging up to 2 – 5 days.
Ease of Use 
A mold test that is easy to use will increase your chances of accurate results because there's less risk of the test being done incorrectly.
To ensure that your chosen mold test ranks highly on ease of use, you should verify that the kit comes with all the necessary equipment, including boxes and pouches for shipping, if necessary.
The easiest tests to conduct are those that involve simple swab or tape sampling.
Air samples aren't typically too difficult to take, but they can be complicated to interpret, especially from home.
Samples that involve the use of Petri dishes are usually the trickiest because there's much more room for error and contamination.
Additional Features 
If you're lucky, your mold sampling kit may include a free professional consultation.
If this is included free of charge, we'd highly recommend that you take advantage of the opportunity.
A consultation with an expert will give you the opportunity to query and get to grips with your results (which can sometimes be tricky to interpret by yourself) and will help you to work out what your next steps should be.
Frequently Asked Questions 
Even though hidden mold can't always be detected with the naked eye, your body may still be giving you clues as to the presence of mold in your home.
Itching or irritation of the skin, eyes, or respiratory tract (throat, nose, and lungs) are the most common symptoms. You may also develop headaches and, in severe cases, respiratory difficulty.
What should I do if my mold test kit comes back positive?
If your test kit comes back positive for mold, it can be tempting to try and tackle the problem yourself straight away.
However, we'd recommend calling in a professional mold remover.
This is because there may be more mold in areas that you haven't tested, and if it's a severe problem, disturbing the spores without the proper equipment can be risky.
A professional will be able to investigate further and take the appropriate measures.