Black mold is the nightmare of any tenant or homeowner. This darkly colored mold species isn't any more dangerous than other types of mold, but its dark pigmentation and pungent odor make it much more noticeable.
Like all other types of mold, prolonged exposure to black mold can lead to a variety of respiratory issues. Symptoms associated with black mold spore inhalation range from a cough and stuffy nose to more serious signs like difficulty breathing. Elderly people, young people, and people with existing respiratory conditions are especially at risk where black mold is present. We know this sounds quite alarming, but if you know or suspect that you may have a black mold problem in your home, there's no need to panic. Instead, we recommend getting your hands on a high-quality mold remover product. Because everyone deserves to live in a safe, mold-free environment, we've made a list of the top 5 black mold removers available through online retailers. With our help, you'll have your home sparkly and clean in no time!
OUR TOP PICK
[amazon fields="B01N9BL5Z6″ value="thumb"]
Mediclean Disinfectant Spray Plus
EDITORS CHOICE
[amazon fields="B000UVGHQK" value="thumb"]
BEST VALUE
[amazon fields="B01NAU9T3C" value="thumb"]
MOLD ARMOR E-Z Deck, Fence, and Patio Wash
Best Overall
[amazon fields="B01N9BL5Z6″ value="thumb" image_size="large"]
Our best overall pick if you want to remove black mold from any surface in your home is the Mediclean Disinfectant Spray Plus!
This spray is an all-purpose remover for bacteria, fungus, mold, and mildew. This means that as well as being effective against black mold (this stuff is strong enough to deal with sewage buildups), it's also gentle enough to tackle some of the lighter molds you might find in your home.
Mediclean can be used on almost any surface you can think of, from walls and tiled floors to fabric and upholstery. No matter where your black mold infestation has taken hold, you can use Mediclean to remedy the issue.
The Mediclean Disinfectant Spray Plus comes in large, 4-gallon containers. This is really helpful because it increases the product's value for money and means you can be prepared for any future black mold breakouts.
This is a very powerful disinfecting and cleaning agent, so it should be kept out of reach of children at all times. Because of its potency, it also has a naturally strong odor. However, a mint fragrance has been added to the product to prevent overpowering odors and keep your home smelling nice.
The only downside to this product is that it can't be applied straight from the container and needs to be transferred to a spray bottle before use.
Pros
Extremely powerful – Strong enough to deal with sewage buildup
Effective against bacteria, mold, mildew, and fungus – All-purpose
Suitable for porous and non-porous surfaces – Multi-surface application
4 gallons per container – Great value for money
Mint fragrance – Keeps surfaces smelling fresh
Cons
Not for application directly from the container – Transfer to spray bottle
Runner-Up
[amazon fields="B000UVGHQK" value="thumb" image_size="large"]
This Mold Control Spray by Concrobium is also high on our list of the best mold removers currently available.
Controbium's Mold Control Spray comes in a convenient spray bottle, so it's super easy to work with. All you need to do is spray the product directly onto the affected area and wait a few minutes for the formula to dry and do its magic! There's no need for scrubbing or any other exertion.
Moreover, this mold control spray deals with nasty, lingering mold odors as well as the observable symptoms of mold infestation, so you won't be left with any residual musty smells.
And that's not all! Concrobium not only eliminates existing mold but creates an invisible barrier over surfaces to prevent future regrowth. This is ideal for home environments with recurring damp issues.
Because this mold remover is bleach-free and doesn't contain any other particularly harsh chemicals, it's appropriate for use on both porous and non-porous surfaces.
We should mention, however, that there have been some reports of the spray bottle leaking, which can lead to a messy experience. Therefore, it might be worth having a spare, reusable spray bottle on hand in case the packaging fails.
Pros
Spray bottle container – Easy application
Prevents regrowth – Minimizes need for future cleaning
Odor control – Tackles mold smell as well as visible mold
Bleach-free – Suitable for use on most surfaces
Cons
Packaging may leak – Bottle transfer may be required
Best for Wood
[amazon fields="B01NAU9T3C" value="thumb" image_size="large"]
While most mold removers are suitable for use on non-porous surfaces, porous surfaces like wood can be a little trickier to treat.
Luckily, there are some mold remover products formulated specifically for use on wood, like the Mold Armor E-Z Deck, Fence, and Patio Wash.
Mold Armor's Deck, Fence, and Patio Wash is designed to tackle black mold growth on outdoor wooden surfaces.
The product comes with a spray adaptor for use with a garden hose that fits onto the neck of the bottle and delivers impressive spray functionality. Using this spray adaptor, you can apply the mold remover to areas you might not be able to reach without a ladder.
Then, you can simply wait 10 minutes and use the hose to rinse the product off without scrubbing.
Even better, the spray adaptor has a wide, jet, and shower spray function, so you can choose the type of application that you feel would work best. All settings are easy to use thanks to the handle included on the container, which facilitates a comfortable, firm grip.
However, because this is a heavy-duty, powerful spraying mold remover designed exclusively for outdoor use, it's not an appropriate product for use on indoor wooden flooring or furniture.
Don't worry, though – our best overall and runner-up choices are both safe for use on indoor wooden surfaces.
Pros
Easy application – Spray-on, no scrubbing
Includes spray adaptor – Powerful, far-reaching spray action
3 spray functions – Jet, shower, or wide
Practical container handle – Perfect for handheld use
Cons
Only for outdoor use – Not suitable for enclosed areas
Best for Fabric
[amazon fields="B00030MAL4″ value="thumb" image_size="large"]
Fabric is definitely one of the most difficult surfaces when it comes to removing mold. This is mainly because fabric is much easier to damage than hard, non-porous surfaces.
However, with the Multi-Surface Cleaner from 303 Products, you can have your fabric surfaces mold-free in just a few minutes with no damage!
Now, despite being a multi-surface cleaner, this product is specifically marketed as a 'Marine and Recreation' cleaner. This means that it's been specifically formulated for use on marine and watercraft vehicles.
So, what makes the 303 Multi-Surface cleaner a good choice for fabrics?
Well, this cleaning spray can be used on both porous and non-porous surfaces, including fabrics and awnings. As you can imagine, any fabric on a boat is likely to be exposed to the elements and put through quite a lot of wear and tear.
Therefore, any cleaning product will have to be highly effective to rectify the damage.
This spray is effective against all types of mold as well as most other types of stains. Since it's also suitable for use on a variety of surfaces, you can use it for any mold-ridden surface in your home – not just fabrics!
303's cleaning spray is suitable for use even on delicate fabrics, so you can use it on cushions, clothing, and carpet without worrying about damaging it. The formula doesn't leave behind any residue, so anything you apply it to will retain its original texture and color.
Application is easy thanks to the spray bottle that the remover comes in. However, some scrubbing may be required for extra-tough stains or embedded mold.
Pros
Fabric-safe – Suitable for delicate materials
No residue – Leaves surfaces good as new
Works on most surfaces – Multipurpose
Tackles various substances – Mold, mildew, and other stains
Spray bottle container – Simple application
Cons
Scrubbing may be required – Not the most effortless application
Best Eco-Friendly
[amazon fields="B00F17QMN6″ value="thumb" image_size="large"]
Finally, if you're looking for a product that will be as good for your home and the planet as it is for your home interior, check out the Benefect Botanical Decon 30 Disinfectant!
This product is hands-down the best on the market if you're hoping to find a non-toxic and chemically safe formula that works just as effectively as some of the beach-containing agents out there.
The active ingredients in Benefect's Botanical Decon 30 Disinfectant are botanically derived, making this a nature-based formula that won't fill your home with chemical fumes or odors.
In fact, this is a lemon-scented cleaning agent, so if anything, your home will smell better after application than it did before!
Despite being formulated from botanical ingredients instead of harmful chemicals, this cleaning product is extremely effective, killing 99% of bacteria and proving efficient at removing black mold.
What's more, this product disinfects and cleans in as little as 30 seconds, which is much faster than most mold removers.
This factor makes Benefect a particularly good choice for use on vertical surfaces (walls) because you won't have to worry about the product running down the surface while you wait for it to take effect.
However, one word of caution: this product is not suitable for use on porous surfaces, so it should not be applied to fabric or unsealed wood.
Pros
Natural, botanical formula – Non-toxic
Kills 99.9% of bacteria – Highly effective
Works in 30 seconds – Ideal for vertical surfaces
Lemon-scented – No harsh, chemical odor
Cons
Not for use on porous surfaces – Unsuitable for wood and fabric
Best Black Mold Remover Buying Guide
If you have a black mold issue in your home, you're probably anxious to get the problem sorted as quickly as possible.
That's why it's so important to choose the right type of product the first time around.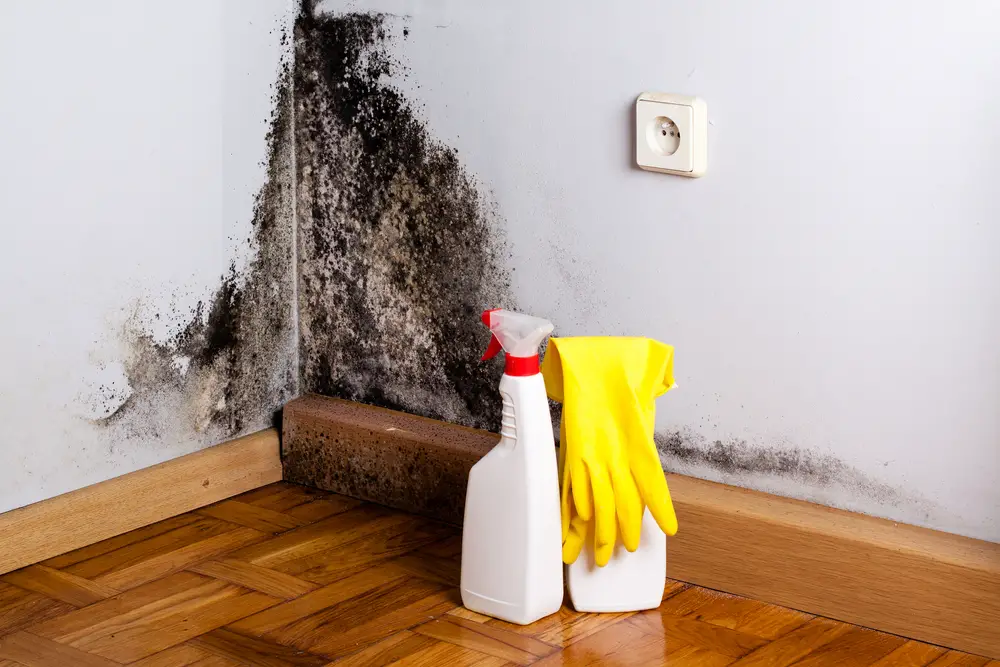 Mold Remover Types
We should start out by clarifying that mold removers actually come in two different types. Essentially, you have your fungicides and your preventatives.
A fungicide is a substance that kills mold spores, plain and simple. Bleach, for example, can be an effective fungicide in itself, as long as it's used on a non-porous surface.
A preventative product will not only kill existing black mold but will also leave an indivisible layer of product behind to prevent any regrowth.
If you're dealing with what seems to be an isolated incident of black mold infestation (meaning that this has not happened before), a simple fungicide may do the trick.
However, if you've found yourself repeatedly battling black mold over months or years, it's definitely time to bring in a preventative mold removing agent.
Formula
Once you've established what kind of mold remover would work best for the mold-affected area(s) in your home, it's time to start assessing individual formulas.
In order to establish how good a mold removing formula truly is, you will need to look at the active ingredients in the product as well as the efficacy rating stated either on the packaging or in the product guidelines.
In many mold removers, the main active ingredient is bleach. Now, bleach can certainly be effective at cleaning up mold on non-porous surfaces because it's so chemically potent.
However, bleach on its own is a surface-level solution to mold growth. This means that, in the absence of pores (which should not be present if you're using bleach), bleach does not penetrate the surface enough to kill mold at the root of the colony.
Another issue with using bleach to kill black mold is that while mold is certainly not good for your respiratory system, bleach is also highly toxic.
This doesn't necessarily mean you shouldn't use it, but bleach should be used with care and always in a well-ventilated area, with protective gear (gloves, goggles, and mask) if necessary.
Luckily, there are some great alternatives to bleach-based mold removers. For example, the
Benefect Botanical Decon 30 Disinfectant is made with botanical extracts rather than artificial chemicals, but it still has an efficiency rating of 99.9% – within 30 seconds!
In general, we'd recommend prioritizing products with an efficacy rating of 99% or over. This will give you the best chance of thorough and long-lasting removal.
Compatibility
The best way to determine whether or not a mold remover is compatible with the surface you need to clean is to check if it's marketed for use on porous or non-porous surfaces.
If it's only suitable for non-porous surfaces, then you know it shouldn't be used on unsealed wood, drywall, or fabric. If it's advertised as suitable for porous surfaces, you should be able to use it on any of the above.
With that being said, it's always a good idea to specifically check the product guidelines to see which surfaces are listed as compatible. This will allow you to avoid any accidental damage through misuse.
Moreover, there are products on the market that are specifically formulated for use on certain surfaces. For example, the MOLD ARMOR E-Z Deck, Fence, and Patio Wash is designed for use on wood. It's also exclusively designed for outdoor use, which leads us on to our final point:
Always verify whether a mold remover is suitable for indoor or outdoor use. Using a chemical formula designed to be used outdoors in an indoor space can be very dangerous because of improper ventilation.
Ease of Use
If you want to ensure ease of use from your mold remover, the best thing to do is to buy a product that comes in a spray bottle. However, it's wise to check the product reviews for testimonials regarding the quality of the spray bottle.
If there are reports of bottle damage or breakage during use, we'd recommend buying an inexpensive, reusable spray bottle and transferring the product into that. You may also need to do this if the product you've chosen comes in a gallon container as opposed to a spray applicator.
A product's ease of use also concerns how long the formula takes to work and whether or not any scrubbing is required.
Best Black Mold Remover – FAQ's
How does mold remover work?
Depending on what type of mold remover you're using, it might work slightly differently. A standard fungicide works by absorbing into the mold (this process usually takes about 10 to 15 minutes) and killing the mold at the roots.
This is the most effective way to remove mold because if the roots remain alive, the mold will quickly come back.
If the mold remover is also preventative, it will work by drying in a clear layer over the surface, leaving future mold no room to grow.
Should I get mold professionally removed?
In most cases, you should be able to remove black mold from your home by yourself without any professional assistance. However, there are some circumstances where black mold buildup will require professional removal.
If black mold keeps coming back after you've cleaned it, it's probable that you're dealing with a porous surface and that the mold has become embedded. In this situation, professional removal is probably the best course of action.
Can mold removers be harmful?
While mold removers from reputable manufacturers are safe to use when applied according to the directions provided, these substances can be harmful in certain circumstances.
If the remover contains harmful chemicals like bleach, for example, it will have the potential to be toxic if ingested or inhaled. That's why you should only use bleach in a properly ventilated area.
Some mold removers can cause skin irritation, so make sure to read the bottle carefully and wear any protective clothing advised.